Select Your Injury Type
(check all that apply)
Dallas Drug Injury Lawyers | Dallas Dangerous Drug Lawyers | Dallas Drug Recall Claims
Dallas Drug Injury Lawsuits & Dallas Drug Recall Lawsuits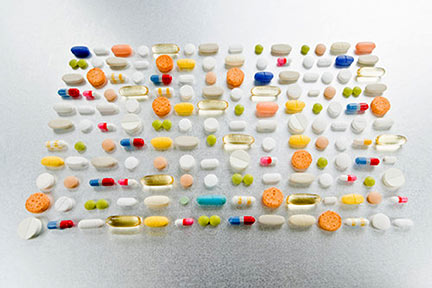 As a nation, we rely upon pills to "fix" whatever it is that ails us — from heartburn to allergies, high blood pressure to arthritis, and insomnia to restless leg syndrome. The drug companies invest billions of dollars into research each year, developing and marketing drugs for consumer use. Last year alone, the pharmaceutical industry invested some $12.6 billion in new drug development. And, historically, the amount invested in drug development has doubled every five years. This can be a good thing. Sometimes, however, the "push" by the manufacturer to get a drug onto the market can cause health problems for unknowing consumers, often much more serious than the ailment the drug was being used to treat in the first place.
Dallas residents take prescription and over-the-counter drugs each day and suffer from a variety of unnecessary, drug-related side effects. It is in these situations that a Dallas drug recall attorney can help you.
Over the past two decades, large pharmaceutical companies have put increasing pressure on the Food and Drug Administration (FDA) to grant approvals faster and to implement less stringent testing processes. Unfortunately, sometimes when the FDA approves a drug it is later discovered that it causes many more medical problems and harmful side effects than initially projected. In fact, Consumer Reports found that one out of every six Americans has experienced a prescription drug related side effect serious enough to require medical treatment in a hospital. Imagine if one out of every six of your friends or family members in Dallas, Texas were hospitalized due to adverse reactions to their medications!
Drug Recall Attorneys in Dallas, Texas
Occasionally, pharmaceutical companies end up recalling drugs when the side effects and complications are too dangerous or a batch is contaminated. The FDA Twitter Recall account Tweets all FDA recalls. Dallas recall drug lawyers are well aware of the special Texas Rule of Evidence 407(b) pertaining to recall evidence being used at trial. Other times, however, the drugs are never recalled at all. The result is that injuries and ailments both in Texas and across the country are commonplace and Dallas dangerous drug injuries are often overlooked. If you are a victim of a dangerous drug, contact an experienced Dallas drug injury attorney today for a consultation regarding your legal rights.
Who brings Dallas, TX drug injury lawsuits?
Obviously the injured person but, in severe cases where the drug or medical implant actually ended up killing your family member, a wrongful death fatal drug reaction may be filed in Dallas, Texas Dallas County District Courts. and Dallas County drug injury lawsuits cases are brought by persons when a dangerous drug causes them injury. Usually, the product is known to be potentially dangerous and is sold without a proper warning to the consumer. It does not matter if the drug is received via prescription or over-the-counter in a local Dallas area drugstore. If you or a loved one has suffered injury and you believe that a dangerous drug is to blame, contact a Dallas drug recall attorney today.
What Drugs Have been Recalled by the FDA?
If you have questions about a drug, contact a local pharmacist in Dallas. The following pharmacies are in the Dallas area:
Dougherty's Pharmacy
5959 Royal Lane 515
Dallas, TX 75230
(214) 373-5300
Abrams Royal Pharmacy
8220 Abrams Road
Dallas, TX 7523
(214) 341-7966
Walgreens Pharmacies
3418 McKinney Avenue
Dallas, TX 75204
(214) 922-9283
CVS/pharmacy
4202 Ross Avenue
Dallas, TX 75204
(214) 584-2480
Walmart Neighborhood Market
2305 North Central Expressway
Dallas, TX 75204
(214) 953-0460
Target Pharmacy
212 Medallion Shp Center
Dallas, TX 75214
(214) 361-2026
Walgreens Pharmacies
5001 Ross Avenue
Dallas, TX 75206
(214) 370-8747
CVS/pharmacy
Greenville Avenue
Dallas, TX 75206
(214) 691-0861
Kroger Pharmacy
2770 Valwood Parkway
Farmers Branch, TX 75234
(972) 620-2188

What are the duties of a drug manufacturer or pharmaceutical company regarding the safety of their products?
The obligation of a drug manufacturer is to make a safe product. This includes the obligation to design, manufacture, inspect, and label a drug appropriately. They must provide patients and physicians complete safety information about their product. If a drug manufacturer fails to warn the public about any serious side effects associated with taking its drugs and the drug is responsible for causing you harm, then the company can be held liable for medical expenses, therapy and treatment, lost income, and non-economic damages, such as pain and suffering.
Serious side effects related to the use of dangerous prescription drugs include:
Stroke
Heart attack
Bone fractures
Psychological imbalances
Hallucinations
Birth defects
Kidney failure
Cardiovascular problems
Stevens Johnson Syndrome
Sleepwalking, sleepdriving, and amnesia
Tuberculosis
Multiple Sclerosis
Death
Suicide
If you or a loved one has experienced a serious side effect as a result of an unreasonably dangerous drug, you are entitled to compensation from the manufacturer. Contact a local Dallas drug products liability attorney today.
The following is a list of dangerous drugs:
Avandia
Digitek Drug Recal
Cialis
Celebrex
Fen Phen
Fosamax
Bextra
Hydroxycut
Hormone Replacement
Therapy (HRT) Products
Ketek
Levitra
Lotronex
Meridia
Viagra
Ortho Evra
Metoclopramide (Reglan)
Drug Inquiry
Paxil
Strattera
Trasylol
Vioxx
Yaz
Yasmin
Metoclopramide (Reglan)
Side Effects, Tardive Dyskinesia
Rezulin
Zelnorm
Serzone
Phenylpropanolamine (PPA)
Selective Serotonin Re-uptake Inhibitor (SSRI)

Drug related injuries are caused by:
Drugs sold without warnings as to the hazards of use with certain other drugs;
Drugs sold with side effects; and
Drugs sold that tend to cause long term use, or withdrawal symptoms that occur when trying to reduce the dosage or quit using the drug altogether.
Types of Drug Labels and "Black Box" Warnings
A black box warning is a type of warning that appears on the package insert for prescription drugs that may cause serious adverse effects. It means that medical studies indicate that the drug carries a significant risk of serious or even life-threatening adverse effects. The FDA can require a pharmaceutical company to place a black box warning on the labeling of a prescription drug, or in literature describing it. It is the strongest warning that the FDA requires. These so-called "black box" warnings have even been placed on anti-depressants for children, since an alarming number of children have committed suicide while taking anti-depressants.
Also, the FDA has supplied guidance on what should be included as to drug reactions, and how adverse reactions should be presented in drug warnings. A Dallas, TX drug recall lawyer can advise you on whether a proper warning is present on a drug you have taken and whether you may have a claim against the manufacturer.
What are the ways Dallas, Texas, residents can bring lawsuits for Defective Drugs?
Dallas drug injury lawsuits may be brought in three different ways:
Individually, in Dallas County Civil Court or in Dallas County District Court;
As a group, through Drug Injury Class Action lawsuits; or,
As a group, through Multi-District Litigation.
Also, Dallas lawyers may sue the pharmacy for misfilling a prescription. See below for more information on Dallas, Texas class action lawsuits and multi-district litigation suits involving dangerous drugs. Dallas drug recall attorneys are some of the best in the nation and are able to bring multi-district or class action lawsuits in defective drugs cases. Click here to read the Texas Products Liability Statute.
Dallas Drug Class Actions
Dallas Drug Class Actions are seen very rarely after a series of Texas Supreme Court rulings that placed obstacles in the way of certifying and winning a dangerous drug class action lawsuit. Additionally, the Texas Legislature adopted Chapter 26 of the Civil Practice & Remedies Code, which also places obstacles on the formation, or certification, of class actions. Finally, under President Bush, Congress passed the Class Action Fairness Act (CAFA) which is found in 28 U.S.C. 1332(d)(2), which severely tightened the availability of national class action lawsuits. However, in certain cases, a judge may certify a class action lawsuit, and this happens occasionally with defective drug lawsuits. If you believe a defective drug has injured you, contact a Dallas class action drug recall attorney today.
Multi-District Litigation (MDL) Drug Lawsuits
Often, drug manufacturers will try to consolidate many individual lawsuits that are filed in various areas of the country into one central region of the country. This request is made under 28 U.S.C. § 1407. Examples of MDLs pertaining to drugs are:
Bayer Aspirin
Epogen & Aranesp
Vytorin & Zetia
Trasylol
Avandia
Mirapex
Fosamax
Seroquel
If an MDL has been formed pertaining to a drug that you took and from which you may have suffered adverse effects, it is essential that you retain a lawyer that actively practices in Federal Court and is familiar with the very specialized practice in MDL. Dallas products liability attorneys are experienced in handling MDL and complex class actions lawsuits.
Who may be Liable for a Drug Injury?
The designer, manufacturer, and others involved in the chain of commerce, including the distribution of the products that caused the injury or illness, can be held liable for injuries and illnesses caused by the defective drug. Dallas drug injury lawyers will identify and pursue claims against all potentially liable parties.
Steps to make a claim for Dallas defective drug injuries:
You must be able to prove that you took the drug. If it was purchased over-the-counter, then a receipt or a credit card statement would do;

You need to show that the drug caused a physical injury or illness (including psychological and/or mental illness) as the result of a defect in the medication or its labeling;

If you or a loved one has been injured or has fallen ill due to what you believe is a defective drug product, do not delay in seeking immediate medical attention, as prompt diagnosis and treatment may help to avoid irreparable damage. It is also important to take immediate legal action, as restrictive Statutes of Limitations can prevent you from collecting the compensation to which you are entitled. For more information, contact one of the skilled Dallas defective drug litigation attorneys listed at the top of this page.
How can a Dallas Drug Recall Attorney help you?
An experienced lawyer can help you recover the money you deserve. Texas law limits the amount of time you have to file a lawsuit under something known as a Statute of Limitations. After the applicable time period has passed, you may be legally barred from exercising your rights. In Texas, the limitations period is two (2) years from the date that the cause of action accrues, which is usually the time of injury. If you or a loved one has experienced a severe adverse reaction to a prescription or over-the-counter drug, it is in your best interest to contact a Dallas personal injury drug attorney who will fight to get you the settlement you deserve.
Successful defective drug litigation sends a clear message to the pharmaceutical industry about accountability and consumer safety. A qualified defective drug lawyer can uncover all of your legal rights and discuss your litigation options with you.
Some of the courts in which a Dallas County Dangerous drug lawsuit may be filed in:
The Civil District Courts for Dallas and Dallas County are located at:
George L. Allen, Sr. Courts Building
New Tower - Sixth Floor
600 Commerce Street, Box 640, Dallas, TX 75202
Helpful Resources for Dallas Residents
FDA site for Drug Recall and Drug Safety Alerts
FDA site for Dangerous Drugs
MedWatch is an online system whereby consumers can report serious reactions and side effects from medications, dietary supplements, and herbal remedies. The FDA recommends consulting your doctor for help with filling out the forms.
FDA Contact Information
Food and Drug Administration
10903 New Hampshire Ave., WO66-5429, Silver Spring, MD 20993
(800) 638-2041 or (301) 796-7100
FDA Dallas District Office
4040 North Central Expressway, Suite 900
Dallas, TX 75204
Phone: ( 214) 253-4901or Fax: (214) 253-4960
Hospitals in the Dallas County Area
Personal Injury Attorneys Serve Dallas and Surrounding Cities
Serving clients throughout Central Texas, including Addison, Allen, Arlington, Audelia, Balch Springs, Bedford, Cedar Hill, Carrollton, Cockrell Hill, Coppell, Dallas, Dalrock, De Soto, Duncanville, Farmers Branch, Ft. Worth, Forney, Garland, Glenn Heights, Grapevine, Grand Prairie, Highland Park, Hutchins, Irving, Lancaster, Lewisville, Mansfield, Mesquite, Midlothian, Murphy, Plano, Richardson, Rockwall, Rowlett, Sachse, Seagoville, Sunnyvale, Trinity Mills, University Park, Wilmer, Wylie, areas in the vicinity of Dallas-Ft. Worth International Airport, and other communities in Collin County, Dallas County, Denton County, Kaufman County, and Rockwall County.
Don't be a victim any longer. Contact a Dallas County personal injury attorney today for a FREE INITIAL CONSULTATION.